Mount Ama Dablam (6,812meter/ 22,349feet) is one of the most prominent mountain peaks which lies in the Everest region of Nepal. Ama Dablam dreamt about the mountain to summit both for novices and for experienced climbers where they can test their all-climbing skills at their best.
This striking peak can be seen on the way to Everest base camp which is situated northeast of lower Pangboche village(3900m) across the Imja River. Ama Dablam literally means "mother's necklace", an iconic mountain which no one can be helped without noticing while trekking to Everest base camp.
Mount Ama Dablam, the first recorded ascent took place in 1961 by Sir Edmund Hillary which at first, he thought it's unclimbable when he was here in 1951 on a British expedition.
Since its ascension, this 6812-meter-high mountain has become a great attraction among visitors as hundreds of climbers arrive at its base to summit this beautiful mountain.
The summit of mount Ama Dablam provides you a breathtaking 360-degree view of surrounding mountains which includes the world's highest Mount Everest(8848.86 m), 3rd highest mount Kanchenjunga(8586m), 4th highest mount Lhotse(8516m), 5th highest mount Makalu(8463m), Thamserku, Khantega and many other surrounding mountains.
To inform princes of Qatar have come in recent pandemic and submitted Ama Dablam whereas he had summited Mount Everest in 2013. So, you can figure out the charm of climbing Mount Ama Dablam.
Our company has been providing all the best-customized climbing itineraries for Mount Ama Dablam Climbing according to your fitness. we also provide the best arrangements, and services accompanied by our professional licensed climbing guides who have a great amount of experience in the Nepal Himalayas for decades.
Getting to the trailhead of Mount Ama Dablam Base camp
Although you can start the journey via Jiri or Sallari taking a long time however the best option and as well as time-saving way is to take a flight to Lukla airport which only takes about 30 minutes to reach from Kathmandu airport.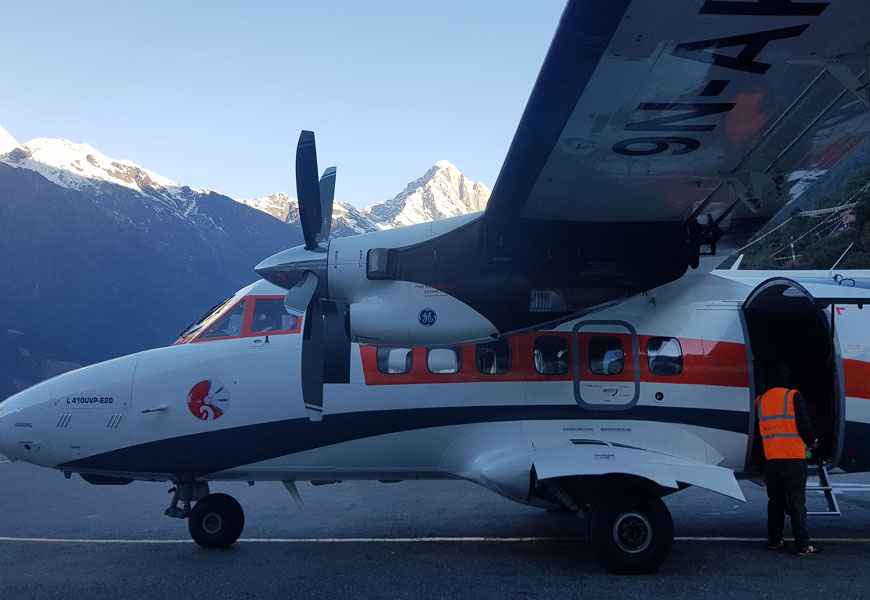 After landing at Lukla your actual adventure journey begins following a similar route to the Everest base camp trek until Pangboche. It takes about 5 days to reach Pangboche from Lukla including an acclimatization day in Namche Bazaar. Pangboche, which is the nearest village from where your approach trek to Ama Dablam begins.
It takes about 3 hours to reach the base camp to this iconic mountain from Pangboche. Ama Dablam base camp is situated in a lovely setting in an alpine meadow at 4600 meters (15092feet) above sea level which provides a magnificent view of the surrounding mountains.
There are two lodges and several tents during the climbing season which mark the locality of Ama Dablam base camp. The Streams running nearby through the meadow supply the main source of water for climbers and the lodges.
Acclimatization process and climbing route for Mount Ama Dablam
You have a few days of acclimatization at base camp before setting your foot on mount Ama Dablam. Then we use two camps before the summit (some use three camps) in which the process of acclimatization, rest, and recovery takes place by climbing the upper camps and back to the base camp.
When you are well acclimatized and ready for the actual Climb to the summit then we proceed to camp one (5700m.) which goes via an interim camp. This climb is mostly scrambling on rocks and rock slabs. After this, you can use fixed ropes all the way to the summit which are already fixed by Sherpa for your safety.
Camp one to camp two (6000m.) is a vertical climb mainly on rock slabs with few snow and ice sections and also pass-through technical sections of the yellow tower before reaching camp two.
The last push for the summit starts early in the morning and this section involves many vertical climbs which go through snow ridge and gully and also through the traditional camp three(6300m.) which is situated by the hanging serac. Eventually, the climbing traverses through the mushroom ridge and takes you to the summit of mount Ama Dablam(6812m).
Climbing Ama Dablam in the spring season.
The Spring season (March, April, and May) provides the most favorable weather for climbing Ama Dablam. Spring is the best time of year and also the most crowded however, this season provides a better weather window for summiting mountains. Normally the temperature remains mostly colder in the Himalayas and especially during the night time however this season is comparatively less cold than the autumn season. During the daytime, it is warmer with brighter sun and the weather normally stays clear until the afternoon thus spring season is picked by many to summit Mount Ama Dablam.
Ama Dablam Climbing in the autumn season.
The Autumn season (September, October, and November) is the second most preferable season to climb Mount Ama Dablam. Although the autumn season is a bit colder compared to the spring season however this season also provides a good weather window with a better view from the summit. In this season, the night and the morning are colder but as soon as the sun comes out it turns into a pleasant day.
Just for a reminder, early September is less recommended. The early September still has some humidity from the monsoon so the clouds built up earlier than October and November which might ruin the view from the summit