Nar Phu Valley trekking trail lies in the Annapurna region, north of the Annapurna mountain range bordering Tibet to the north and the Manaslu region to the east. Nar Phu Valley is an ideal trek for exploring old Tibetan villages such as Nar Village and Phu Village.
Nar Phu valley is listed as one of the restricted areas in Nepal which remained a forbidden valley for tourists until 2002.
Trekking to Nar Phu valley provides an opportunity to explore unspoiled Himalayan nature, ancient Buddhist villages, local people, Tibetan Buddhism, culture, and tradition because the settlement of this villages are inmigrated people from Tibet. Thus, this entire vilage is also know as Mini Tibet of Nepal.
In addition, you can visit the ancient monastery called "Tashi Lakang monastery" which is believed to be about 1000 years old thus this monastery has significant importance, and pilgrims from far away come to pay homage every year.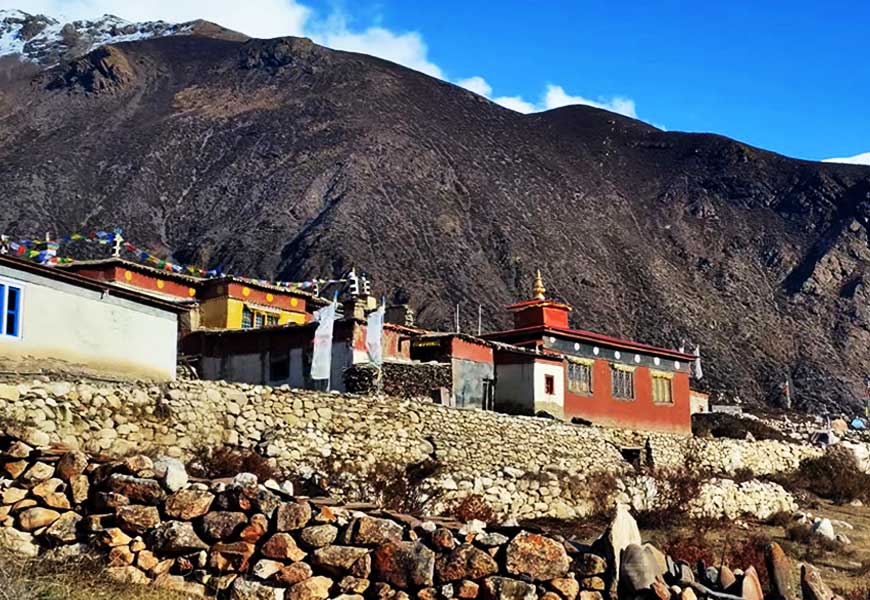 This trek is filled with Buddhist monasteries, monuments such as Chhortens, mani-walls, and stupas which well reflect the vibrant Buddhist culture of this place. Nar-Phu trek is also filled with Spectacular Trans-Himalayan high landscapes, rugged mountains, terrace-like fields, wild rivers, beautiful waterfalls, and lovely forests.
How to get to the trailhead of Nar Phu trekking?
To get to the Nar Phu valley trekking trailhead we can drive taking the bus or private jeep to Beshisahar which takes about 5 hours to reach. Beshisahar is the district headquarter of Lamjung district and it's a gateway to the popular Annapurna circuit trek. Then either trekking for 4 days or taking another around 5 hours jeep ride on the rough road takes you to "Koto" from where the trek to Nar Phu valley begins.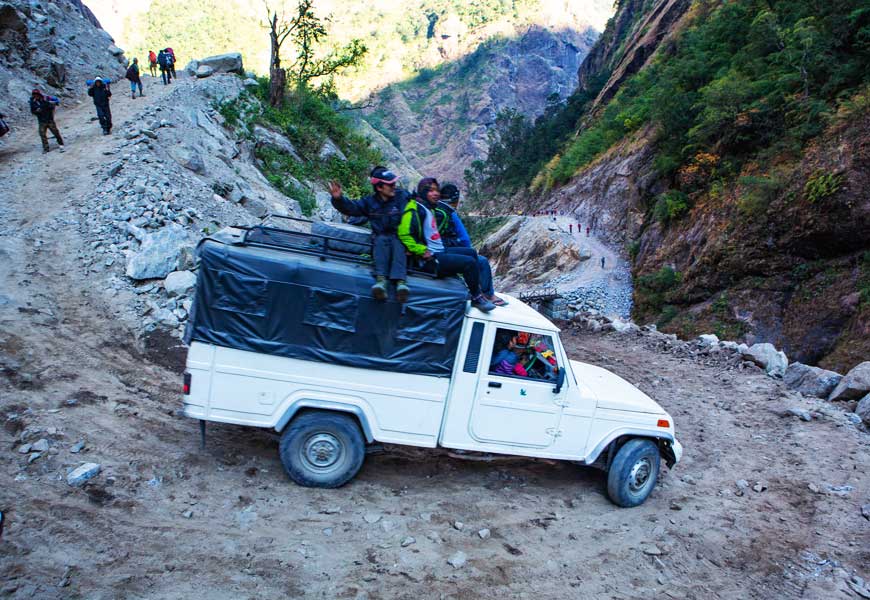 Nar Phu Valley Trek Route
The trek route for Nar Phu valley goes along the Annapurna circuit trek trail for a few days such as Jagat(1300m), Tal(1700m), and Dharapani(1900m) for the first three nights. Then the trek goes to Koto(2640m) for another night before entering the Nar Phu valley.
Koto is the place from where the trail branches off from the popular Annapurna circuit trek to Nar Phu valley. so, the Next day crossing the bridge over the Marshyangdi River, the trek continues to enter the valley which gradually and eventually goes to Meta(3560m), Khyang(3740m), and Phu village(4070m) for other nights of the trek.
The next day as part of an acclimatization day at Phu village, we take a detour to Tashilakhang monastery, a famous monastery in the region and in Nepal.
After this trek, the trail continues to Nar Phedi (3490m) and to Nar village(4180m) for another two nights before crossing over the Kang La pass (5320m). The long and adventurous day takes place the next day leaving from Nar and over the pass and descending to Ngawal where we catch back to the regular Annapurna circuit trek.
Then the trek continues down to Chame, the headquarters of Manang district from where we take a drive to Besisahar before continuing to Kathmandu.
Or some trekkers can string the famous Annapurna circuit trek towards the upper Manang valley and over the Thorong La pass (5416m) and down to Mustang valley along the Kaligandaki River to add up more sights and excitement during the journey.
Nar Phu valley trekking Permits and fees
Feesare required to obtain two kinds of permits for the Nar Phu valley trekking which are:
Annapurna Conservation Area Project (ACAP) permit, costs 3000 Nepalese Rupees per head.
Restricted Area Permit (RAP), as this area is declared as a restricted area, costs $100 USD for a week per head and $15 USD for additional each day. For further details regarding Nar-Phu Valley Trek Permit, Please click here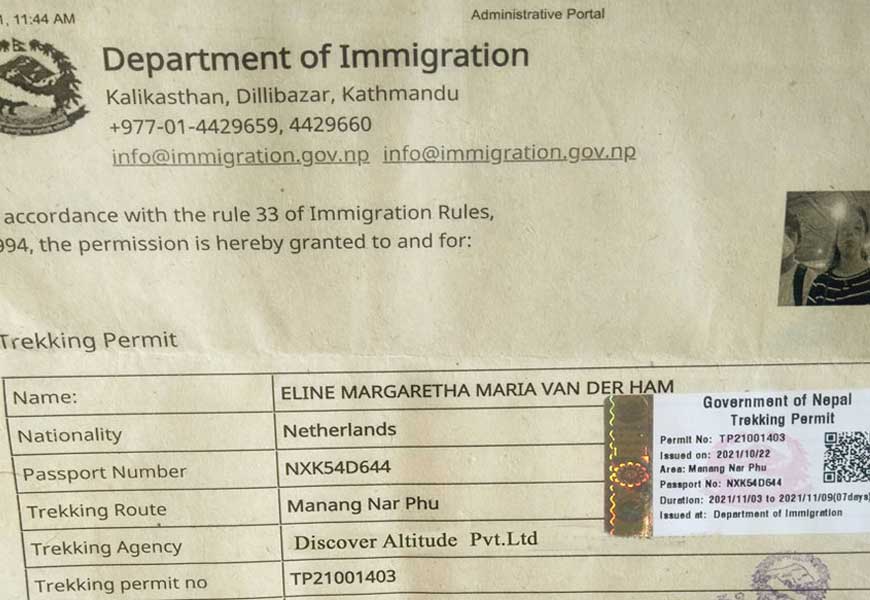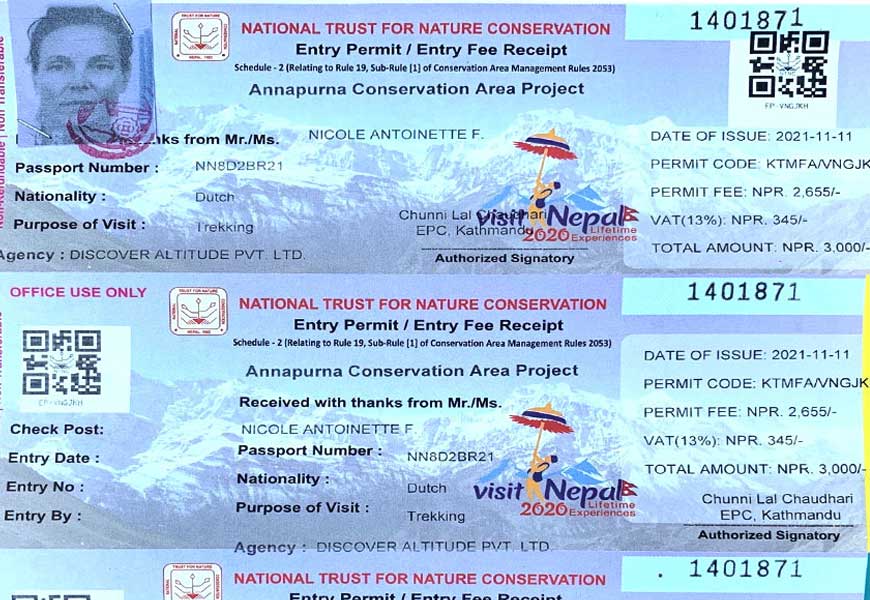 Note: Although our itinerary is just focused on Nar Phu valley trekking besides this, you also can combine the Annapurna Circuit Trek and Thorung-La pass as per your desire. Please let us know if you want to customize this itinerary so, that our expert Package designer can help you with this based on your destination, requirement, and Budget.
Our Nar Phu valley trekking itinerary is designed in a proper way in which you can be well-acclimatized before you reach the Kang La pass(5320m) as well as you can enjoy properly the highlights of the Nar Phu trip however if someone is adventurous and have good experience of trekking in high altitude the itinerary can be customized and shorten it according to your desire so then the cost of the trip as well can be less.
Interested in Nar Phu Valley Trek, for details contact Email: info@discoveraltitude.com or WhatsApp: +977-9841161593