Discover Altitude is a tour company with a vision of preserving nature and culture while operating trips. All of our teams are trained and experienced and have been involved in adventure tourism in Nepal for decades.
We are the ultimate tour planner where your imagination is the only limit to us. As for the trust, Our Company is completely registered with the Nepal government and has an affiliation with all the tourism bodies.
Please go through our Terms and Conditions thoroughly before booking any trip with us thus we can build up trust between us with no confusion.
General Information about Booking a Trip:
For any trek or tour in Nepal, 10% of the selected trip cost should be deposited before arriving in Nepal. Upon receiving the amount, you will get an Invoice of your payment and the remaining should be paid on arrival in Nepal, prior to the trip day. Further, an Invoice bill will be sent from Discover Altitude Pvt. Ltd.
(Note: clients are requested to complete all the payments before starting the trek or tour upon your arrival in Nepal)
Upon cancellation of your trip to Nepal, we can transfer your amount to your particular bank as soon as possible but all the bank charges for any transfer will be deducted from your total amount.
Apart from this, the amount of local Nepalese currency which we receive in Nepal will be counted as the total amount of the client. If in any case the exchange rate of your currency goes increasing, Discover Altitude won't be responsible to send more than what the money was received via bank transfer converted into Nepalese currency.
If you booked a trip with Discover Altitude but due to some unforeseen circumstance the trip could not be made. Discover Altitude will make all the refunds without any cancellation charges but this should be informed as soon as possible.
Apart from this, if the bank charges extra as a service charge while transferring the amount to your account in case you cancel your trip. We are not responsible for paying any extra charge, this will be deducted from your total refundable amount.
For last-minute hotel cancellation in Nepal or Cancellation of domestic airlines ticket in case, you are taking a flight to Lukla or another part of Nepal which is included in your trip (if they charge a cancellation fee, this will be deducted from your amount). So it is suggested to inform about cancellation a couple of days before to get rid of any cancellation charges.
In case you are not able to complete the selected trip in Nepal due to personal reasons, Discover Altitude won't be liable to refund any amount but can arrange another trip upon request.
Discover Altitude is solely responsible for your trek or tours in Nepal from the day of your arrival at Kathmandu International Airport till the day of your departure according to your selected trip.
In case of any loss or damage to your personal belongings, we are not responsible, it is suggested to get insured with all your staff or keep it in your locker room in a hotel or can hand it over to the Discover Altitude office locker room.
Apart from these, if our clients are not able to complete the entire trip due to their health issues, natural calamities, political instability, riots, demonstration, weather, or any unforeseen circumstances, Discover Altitude will not be responsible for a refund of the trip price.
But if the trip gets affected due to our weakness (guide or porters health issues, not arranging proper transportation, changing hotels without prior notice to our clients, misinformation regarding the trip, etc, Discover Altitude is solely responsible to refund the amount (depending upon the number of days used, this will be through mutual understanding)
You can postpone your trip for a valid reason, in such circumstances Discover Altitude won't charge any cancellation charge. If the trip is not made due to some serious with our client ( health issues, political issues, restriction to leave your country, natural calamities, pandemic, etc) prior to your arrival in Nepal, Discover Altitude won't impose cancellation charges.
But last-minute postpone may result in some extra charges which are to be paid by our clients and will be deducted from your advance payment made (last-minute hotel cancellation, last-minute domestic airlines cancellation in Nepal, obtaining special permits while trekking restricted areas, etc).
To avoid extra bank charges while sending the 10% booking amount back to you (in case of cancellation of the trip). You can set any date or time of the year you are interested to come or can refer to any of your near ones who is to set to Nepal.
In what Circumstances booking cancellation charge may occur
The last-minute booking cancellation charge is applicable to the hotels and domestic airlines in Nepal this depends upon their private policies but Discover Altitude can help arrange to lessen the cancellation charge in the best possible way (this is only possible because of our two-way business with the hotels and airlines)
Trip Cancellation due to unforeseen reasons
Upon your arrival in Nepal, if your trip gets canceled due to some unforeseen circumstance like a natural disaster, unfavorable climatic condition, war, etc to that particular region or areas where your trip goes, Discover Altitude will arrange a similar trip to the other region or areas of Nepal according to your interest.
Flight Delay/Cancellation due to unforeseen circumstances
Flight delays or cancellations might occur due to bad weather conditions in some parts of Nepal, mainly the Everest region, Annapurna region, Simikot, Humla, etc. Discover Altitude is not liable for any extra expenses if so occurred.
So it is advisable to carry some extra local currency for your personal expenses like food, drinks, extra night for accommodation, etc.
It is mandatory for all our clients to have comprehensive travel insurance packages which must cover your medical bills, emergency evacuations, trip cancellation charge, personal accidents, loss or theft or damage of personal belongings, etc.
For trekking or expedition above 5000 meters, our clients should make sure their insurance covers all the emergency evacuations in the Himalayas. Discover Altitude will help in arranging legal papers for insurance claims in case your insurance company seeks them.
While being in Nepal, if you commit some unlawful act that the government of Nepal states is illegal and you are forced to abandon the country, Discover Altitude is not liable for any kind of refund.
Price Changing for Trips in Nepal
Discover Altitude reserves the full right to change the price of any trip (unless you have paid the full amount). in Nepal under various circumstances such as inflations or government action ( as we are bound by the rules and regulations of the government of Nepal) and drastic changes in the exchange rate
In this case, we are not liable to answer our action to any parties but can refund your amount without any charge, if you don't want to continue the trip.
FINAL: Our terms and conditions are only applicable if you book a trip to Nepal directly with Discover Altitude. If your trip/trips to Nepal come through some agency or third party, in such case, you shall be liable to their legal policies and or terms and conditions.
OTHERS
Last Minute Booking a Trip:
Discover Altitude will accept a last-minute booking if the trip you choose does not use a domestic flight and is not in the restricted areas of Nepal. This is so because it is very difficult to get domestic airlines ticket and to obtain special trekking permits to some of the restricted areas of Nepal in a short timeframe.
So, we request all our clients to book their trip at least 7- days prior to the date of their trip departure with a 10% booking payment for all the arrangements. In case of some other circumstances, we do accept last-minute bookings of a trip to Nepal.
Trip Joining (Group) Booking:
Discover Altitude arranges private trip joining bookings as well as group joining bookings. For group joining booking, we would request all our clients to book in advance, as we arrange a limited number of people for group joining to avoid unprofessional practice with a fixed departure date for the trip. This is done mainly for trekking on first cum first basis.
Apart from group joining, our clients can arrange their own group with their own date of departure according to their interests and a possible date for any trip.
Private Trip Booking:
Discover Altitude has numerous private trip booking options and facilities for travelers with their interested date of departure. This is applicable to any individual, family members, friends, or near and dear ones coming together for any trip to Nepal.
We arrange everything on the basis of private trips without making them join an unknown individual so that their trip goes with their pace. This private trip goes according to your interest and time frame with your chosen date of departure.
Mode of Payment Made:
Our clients can make the payment either by wire transfer or Credit Card or can pay in Cash (which should be the authorized currency by the government of Nepal)
Detailed Bank Account for Swift/Wire Transfer:
Beneficiary (Business) full legal Name: DISCOVER ALTITUDE PVT.LTD
Beneficiary's full physical address: BHAGAWATI MARG, THAMEL KATHMANDU NEPAL
Bank Account number: 13201050042734
Beneficiary Bank Swift code: NIBLNPKT
Beneficiary Bank Name: NEPAL INVESTMENT MEGA BANK LTD.
Beneficiary Bank Branch Name and address: NEPAL INVESTMENT MEGA BANK LTD, BHAGAWATI MARG, THAMEL KATHMANDU NEPAL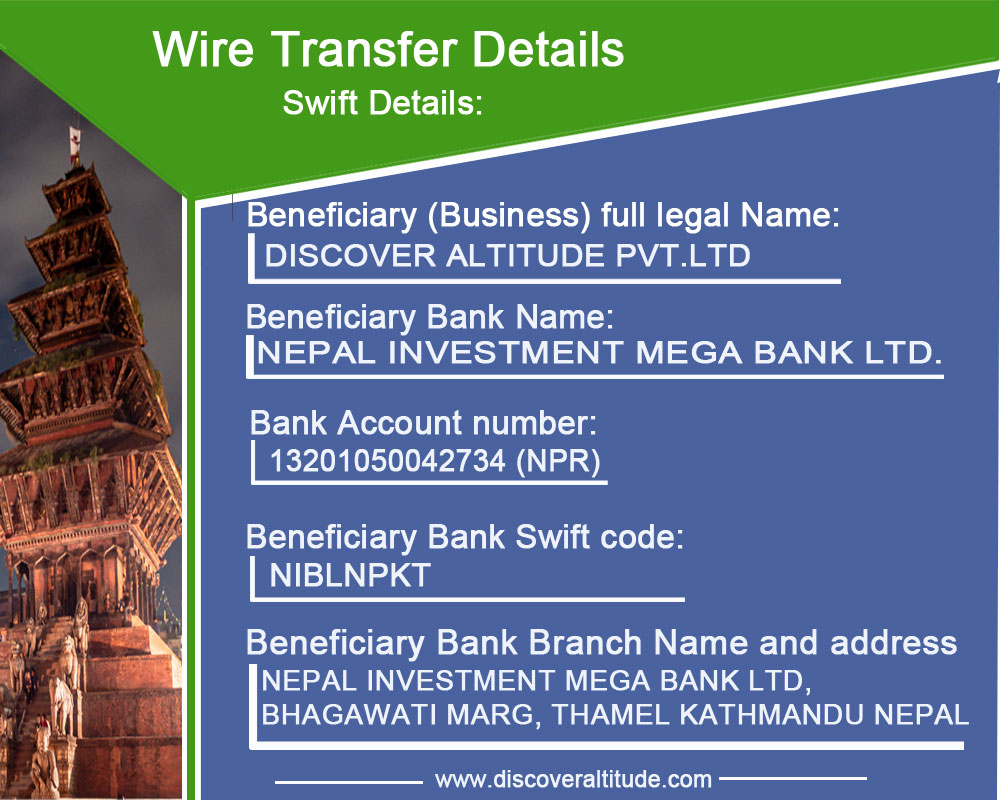 (Note: We request our clients to make sure any extra bank charge (as a service charge) impose by your bank is not liable by Discover Altitude. After receiving the 10% trip booking price, you will be sent an Invoice confirmation by Discover Altitude. The extra charge imposed by your bank will not be covered by Discover Altitude.)
Payment Made in Nepal through Credit Card:
After the successful transfer of the trip booking price which is 10% of the trip price, on arrival in Nepal, the rest of the amount should be paid before the trip. This will be 80% of the trip price, which should be made either by cash payment or through a credit card.
In Nepal the bank will charge an extra 3.5 to 4% for the amount you swipe through Credit Card, this extra amount will not be counted as a trip price, it is the sole client's responsibility unless you pay cash.