Everest the name itself brings thrilling vibrations to many and is one of the highly demanding trekking trails into the wilderness of the high Himalayas. This 9 Day Everest Base Camp trek will take you on a comfortable way to the Everest Base Camp (5364M) and Kala-Patthar (5545M).
As the mountain got its new height in 2020 AD, which was a combined effort from the government of Nepal and China. The last height of 8848 meters was debatable for a long time and also the devastating earthquake of 2015 AD brought some questions about the height.
To bring out the truth both the country (Nepal and China) with the latest technology scaled a new height and was jointly declared to be 8848.86 meters. Making Everest once more a focal point for many and their dream and eagerness to step to the base of the highest mountain a reality.
This popularity of Mt. Everest goes to Tenzing Norgay and Sir Edmund Hillary after their first successful summit to the top in 1953 AD, which was known to the world, but even trekking to the Everest region was not an easy dream for the rest of the world because of the remote terrain without any trail and also a long journey from the main city Kathmandu along with lack of proper transportation up to Lukla.
Further with a long effort from Sir Edmund and Tenzing Norgay, they happened to supervise and find a platform for the Lukla airport in 1964 AD. This airport made the Everest region trek feasible in a short span of time.
But for many Everest still remains a dream, because of the 15-day long Everest trekking itinerary. This may be a difficult journey for many to spend a long holiday or manage a long itinerary bounded by money.
To cope with this situation Discover Altitude has managed a 9-day Kathmandu to Everest Base Camp trekking itinerary starting from Kathmandu and ending in Kathmandu, with deep research about the trail, altitude, and possible tea house to spend overnight during the trek.
This 9- days Everest Base Camp trip which is a short and simple itinerary for trekkers is feasible to the Himalayas for those who are enthusiastic and ready to face challenges to accomplish the entire trek in a short span of time.
This will be 8- days hike to Everest Base Camp altogether before taking the final (on the 9th day) early morning 25 minutes flight from Lukla to Kathmandu. The hike to the base camp of Everest will be a beautiful combination of nature and culture, with amazing Himalayan views, age-old Sherpa culture, tradition, Himalayan glaciers, religious sites, and diverse vegetation.
It will help trekkers who are restricted by time-limit and also money to spend on their long 16 days of Everest trek.
Everest Base Camp which is now a 9-day Everest Base Camp Trek will help trekkers to explore the majestic Himalayas, the lifestyle of Sherpa, culture, religion, and vegetation through the same long trail but in a short span of time saving both time and money.
This Everest Base Camp 9 days Trek, will take us to Lukla from Kathmandu and then the trek continues passing Namche Bazaar, Tengboche, Lobuche, Gorakshep, and finally to two popular viewpoints the Everest Base Camp and Kalapatthar before descending to Lukla.
Moreover, trekking to Everest Base Camp is not an easy effort for many and without acclimatization at the high elevation of Everest means prior physical exercise is a must to do a thing.
Hiking to Everest Base Camp starts from Lukla, after a short flight from Kathmandu (1350m) will take us to the base camp of Everest (5364m) along with Kalapatthar (5545m), just completing the entire Everest Base Camp Trek in 8 days, this makes trekkers be physically fit and mentally strong prior to their trek.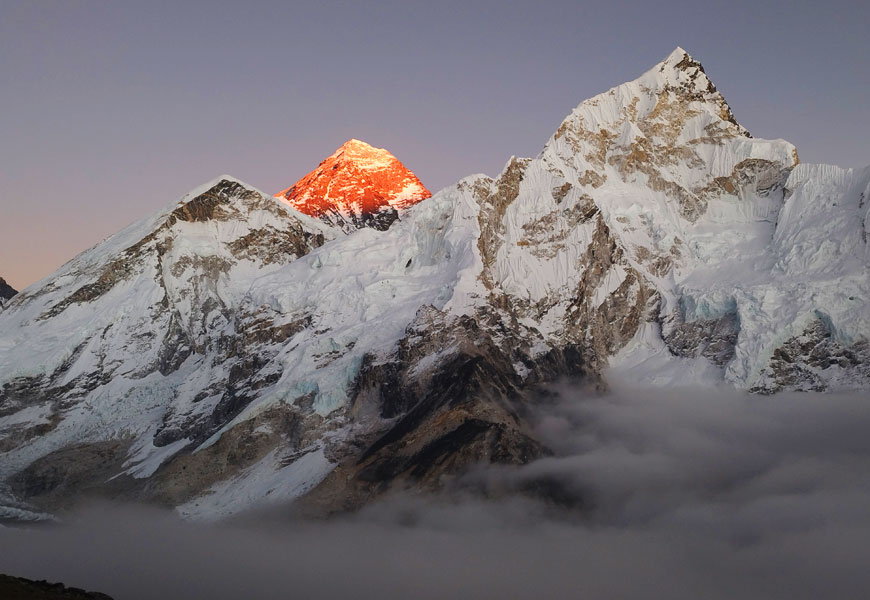 But if your priority on the Everest trek is acclimatization or adding some more extra days; Discover Altitude can offer you Everest Base Camp Trek-15 days, Kalapatthar and Everest Base Camp Trek, 16 Days Everest Base Camp Trek. Further, you are free to customize and create your own Everest base camp trip, we will assist to revise it according to your interest and time limit.
LATEST NOTICE: Individual Trekking is banned in Nepal
Everest Base Camp Trek is for all seasons, but every region has its own importance and beauty, and Everest is one of them. Along with this, vacation or holiday travelers can arrange also to determine the entire Everest trek.
Whatsoever may be the reason, the super best time of the year for Everest Base Camp will be no doubt the Spring and Autumn season, which is also the high trekking and expedition season.
Spring is from February to April, this time of the year brings a favorable Himalayan climate with greenery at the lower altitude, waterfalls, clear sky for the Himalayan views, and high Himalayan flowers everywhere.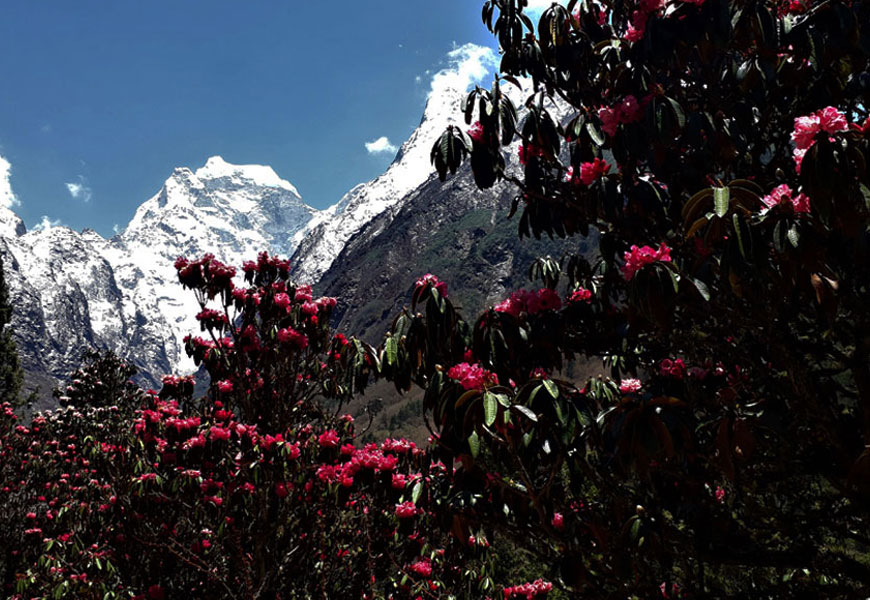 The fragment of the different vegetation can be easily felt when we are far away from the impact of modernization and are in the nature of the Himalayas.
Apart from Spring, Autumn is also a popular trekking season for the Everest Base Camp Trek, which normally begins from September to November. Although there won't be green vegetation and Himalayan flowers as compared to the Spring season, the sky will be crystal clear without clouds.
As autumn is the beginning of winter there might be little snowfall at the high altitude but the trail will be smooth and easy to go. This time of the year will be a bit cold with no sweating but the majestic views of the Himalayas will be not to miss.
Indeed, winter is also a good time for the EBC trek, this time refers to December and January. During winter there will be less crowd on the trail and tea houses will be less occupied. But there will be snow everywhere throughout the trail at the high altitude, making the region along with the Himalayas covered with white snow shawls.
How Difficult is Everest Base Camp Trek?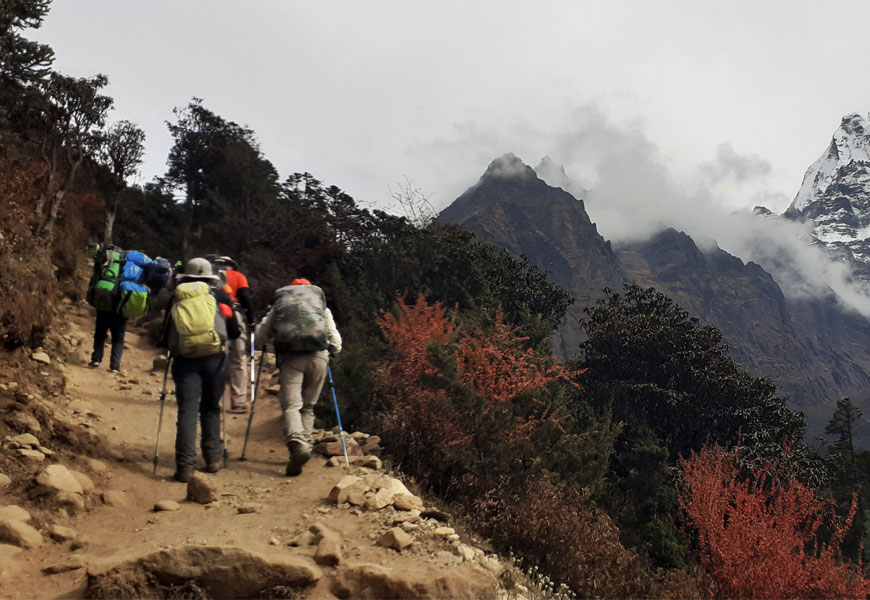 Everest Base Camp trek is not a difficult trek, every year hundreds of trekkers reach the base of Mt. Everest easily, and we don't require any prior trekking experience for this trek to Everest Base Camp.
The trail to Everest Base Camp is moderately difficult due to its altitude, as we ascend and descend all the way to the highest altitude of 5545 meters to Kalapatthar further higher than Everest Base Camp (5364 meters) itself.
Everest Base Camp Trek 9- days will be from moderate to strenuous trek, this is because we are to accomplish the entire trek in a short span of time. This means we are escaping an extra two-night acclimatization day to make it short due to the limited time frame of travelers.
Normally, we suggest trekkers spend the extra nights for acclimatization, this helps your body to cope with the environment of the high Himalayas. But this doesn't mean trekking Everest Base Camp in 9- days is impossible.
To make 8-days (here 8-day refers to the ending day at Lukla) at Everest Base Camp possible trekkers need some extra effort prior to their trek; we suggest travelers start cardiovascular exercises like running, swimming, jogging, and outdoor hiking to nearby hill stations, etc.
This is so required because every day trekkers are supposed to hike for at least 5-7 hours in the Himalayas and also the level of oxygen gets a bit thinner as we ascend above 3000 meters.
This regular cardiovascular exercise will help us to maintain our pace and also will help our muscles to perform in a proper way for 8 days in the Himalayas. If not so, 8-day Everest Base Camp Trek will be difficult along with challenging for any trekkers.
If you think the short 8-day Everest Base Camp Trek doesn't match your level and interest, Discover Altitude has numerous other options for the same Everest Base Camp Trek with an easy-going itinerary and extra acclimatization days where required.
The possible option can be Everest Base Camp Trek-15 days, Kalapatthar and Everest Base Camp Trek, and 16 Days Everest Base Camp Trek, this includes the itinerary from the day of your arrival in Kathmandu till the day of your departure back home.
Or, if you think your age is a factor for the Everest trek, Discover Altitude offers Everest Base Camp Trek for Senior citizens or other treks in the Everest region to explore the Himalayas including Mt. Everest can be the Best Everest Base Camp Panorama Trek and Short Everest View Trek-5 days, can be a better option.
Benefits of 9-Day Everest Base Camp Hike
completion of the Everest base camp trek in a short period of time (only 9 days).
save up the budget for the same trip by $700 USD! (compared to 16 days itinerary)
farewell dinner program with typical cultural Nepalese dances.
Complimentary use of some trekking equipment such as a Duffle bag, an Oximeter to monitor your oxygen level and pulse rate, and a local Sim-Card for communication if needed.
Trip completion certificate after the trek.