15-Days Everest Base Camp Trek or famously known as the EBC Trek is one of the most incredible trekking journeys to the base of the highest mountain in the world. This is the gateway to Mt. Everest also known as 'Sagarmatha' in Nepali and 'Chomolungma' in Tibetan and is very popular among trekkers.
The trail to Mt. Everest Base Camp will lead you to the diversity of nature and culture and is once in a lifetime experience with the enchanting view of Thamserku (6623 meters | 21729 feet), Ama Dablam (6812 meters | 22349 feet)), Lhotse (7600m | 24934 feet),and of courseMt. Everest (8848.86m/ 29032 feet).
Apart from all this, the culture and lifestyle of the Sherpa people are of great interest. Sherpa's are the only human inhabitant communities of the Himalayas. The entire high Himalayan region which includes the Everest Region is one of the oldest settlements of the Sherpa people, who are also known as the people of the Himalayas.
Their age-old unique lifestyle, culture, religion and always welcoming attitude and gesture will make you visit this region again and again. Moreover, the Sagarmatha National Park, a UNESCO-listed site is a protected zone of this region and is an asset for the people by protecting flora and fauna.
Everest region carries an important abode for different wild animals and birds which are found in high altitudes, making them rare living creatures. The magnificent view from Kala Patthar (5545m | 18192ft) is incredible to observe the Himalayan range which will definitely make you feel like being in paradise.
Thanks to Tenzing Norgay and Sir Edmund Hillary for their journey to the summit in 1953 AD, which lead this region known to the people around the world. Now, for many, it's once in a lifetime experience and wishes to visit this region.
Everest region is one of the spiritual lands on earth mainly influenced by Buddhism, hanging praying flags, praying wheels and moreover, and the beating of monastic drums and pipes by the lama further purifies the region, which can be seen and heard from a far distance.
15-Days Everest Trek starts with a sightseeing tour of the Kathmandu region. This tour is an ample opportunity for trekkers to know about the history and culture of Nepal.
You will be able to get informed about the importance of religion in the Himalayas; this will be an asset to know about the unique religion of the Sherpa people and the way they have been living in the Everest Region or Khumbu region for centuries.
Discover Altitudehas a specially designed Everest Base Camp 15 days Trek Itinerary with frequent field visits by our professional staff to make sure the program goes according to the itinerary mentioned below.
For the convenience of our client minute detailed itinerary of the Everest Base Camp Trek, cost, highlights, pictures, and the map has been provided.
As it is an energetic trek into the Himalayas, trekkers can visit this trail every season throughout the year. Regarding the Everest Trekking Cost, it varies on the number of days and person. The itinerary of the trek starts after landing at Lukla airport. Trekkers will have multiple choices when it comes to Discover Altitude.
Some of the popular treks in the Everest region are: Trek into Everest Base Camp and Fly Out, Everest Base Camp Trek for Senior Citizen, Everest Base Camp, Ama Dablam Base Camp Trek, and Everest Base Camp Luxury Trek.
The itinerary can be customized according to the limitation of your time and interest.
15-Days Everest Base Camp Trek 2022-2023
Everest a popular name for many and trekking to the base of Mt. Everest is a dream to some. This was not an easy destination some decades ago, but now with the development of infrastructure everything has changed and the trail to Everest has shortened and can now accomplish in a short span of time.
Everest base camp trek which used to be a 4-week long trek is now only a 9-days hike from Kathmandu to Kathmandu. This shortness of the trail has made Everest feasible to many and now their dream is no more a dream, it has become a reality.
Till 2019 AD, every year around 280,00 trekkers used to hike all the way to Everest base camp this includes the entire Everest region but due to the global pandemic of covid-19, trekking to all the region of Nepal was closed by the central government and the local government, this restriction was applicable for almost 8-9 months but now everything seems normal. Trekkers are allowed to trek to all the regions of Nepal including Everest but with some safety measures.
Travellers coming to Nepal can now get an on-arrival visa with a 72-hour corona negative report and further, they can trek to Everest base camp with the same 72-hour corona negative report.
There is a sufficient number of hospitals in Kathmandu where trekkers can test their corona with nominal fees of 15-20 USD.
Although there are fewer trekkers in the Everest region these days, the eagerness and desire of the trekkers can be seen. All the lodges and tea houses are open on the trail and trekkers are welcome. The government has already started vaccinating tourism workers and hotel staff, as their safety will take trekkers to remain safe.
This effort of the government and the local administration has made trekking to the Everest base camp possible even during this harsh pandemic situation.
Trekkers without any worries can now trek to the Everest base camp in 2022 and also 2023 AD, but need to make sure the required sanitiser and mask are carried by the trekkers themself. Although there are sanitisers in the tea houses, hotels, restaurants, shops, and lodges having their own will be benefitted; as during the hike we may frequently need to use those.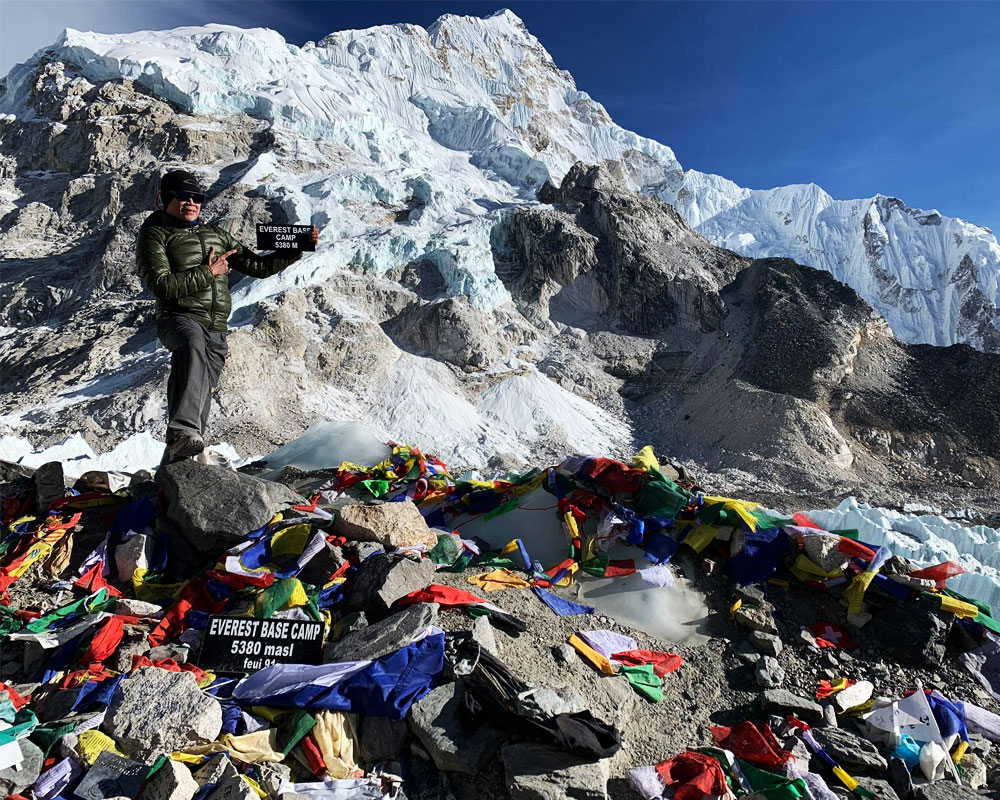 15-Days Everest base camp trek in May
Trekking to Everest base camp during the months of May is one of the best times of the year as this month is best both for trekkers and climbers. The weather stays clear so you can get a clear picture of the mountains beside it has a warmer temperature thus you don't have to deal with extremely cold weather.
During these months you also can enjoy the beautiful rhododendron flower which will amaze you with its different beautiful colours as well as you can see the tents at Everest base camp with climbers preparing to go up on Everest.
Everest Base Camp 15-Days Trek Distance
Everest Base Camp is a short-distance trek into the Himalayas from the hill. This will take us to the highest altitude of 5545 meters | 18192 feet at Kalapatthar and 5364 meters | 17598 feet at Everest Base Camp from Lukla 2840 meters | 9317feet. Trek to Everest Base Camp starts after landing at Lukla airport and ends at the same Lukla until we take a flight to Kathmandu.
This Everest Base Camp Trek covers a distance of 130 km approximately, starting from Lukla and ending in Lukla. Apart from this, the time to cover the entire trek is just a 9-days, this excludes 2- extra acclimatization days.
As the entire Everest trek is towards high altitude, trekkers cover 10-13 km per day to accomplish the Everest trek.
15-Days Everest Base Camp Trek Route
As we all know how popular is Everest trek is for trekkers, climbers, and explorers. This popularity of the Everest region is a gift from Tenzing Norgay Sherpa and Sir Edmund Hillary when they first scaled Mt. Everest in 1953 AD.
That was the time when Everest Base Camp trek was a 4-week long trek to reach just the Base Camp of Mt. Everest, through the only trekking route via Jiri.
Now the time has changed and the means of transportation too, which have shortened the entire Everest base camp trek to just 9-11 days from Kathmandu to Kathmandu. This shortness of the Everest trek is due to the construction of the domestic airport at Lukla, also known as the gateway to Mt. Everest.
There are two different trekking routes to Everest Base Camp trek, one is via Jiri, a classical trek route to Everest which was followed by sir Edmund Hillary and Tenzing Norgay Sherpa in 1953 AD.
This trek route to Everest base camp takes 24-28 days to complete the entire trek to the base camp but can be shortened to a week if we take an alternative flight from Lukla to Kathmandu.
And the other popular trek route to Everest Base Camp which is 9-11 days is to take a 30-35-minute flight from Kathmandu to Lukla and vice versa. This short route to Everest is one of the most popular routes as well because this is less time-consuming and cheaper as compared to the classical Everest base camp route.
15-Days Everest Base Camp Trek Difficulty
Everest base camp trek starts from a moderate hike to a strenuous trek, the trek itself starts upon arriving at Lukla 2840m | 9318ft. Apart from these Everest Base Camp 5364m | 17598feet and Kala Patthar 5545m | 18192ft will be our hiking place, where we are not stopping overnight.
It is an easy-going trek, where experience forehand is not required because trekkers will be hiking all through the well-maintained trail. The important point to be noted in the Everest Base Camp Trek is the altitude because we will be trekking at a high elevation where the level of oxygen will be lower than at the normal altitude below 4000 meters. As the elevation gets higher, we feel tired to hike uphill, to get rid of our tiredness we need to be physically fit.
Trekkers will be hiking all through the well-maintained trail with frequent stops for lunch, tea, coffee, etc. as there are restaurants on the trail apart from our overnight camp.
If trekkers want to spend the extra night for acclimatization or to make the trail shorter, then there are a sufficient number of lodges as well. Only the thing is we need to make sure the distance covered in a single day and the altitude we are supposed to stay at overnight should be good enough for our body to acclimatize.
If all this instruction is followed your age and locality of the nation will not a burden to complete the Everest Base Camp Trek, only the thing that matters is the physical and mental outcome with strong determination.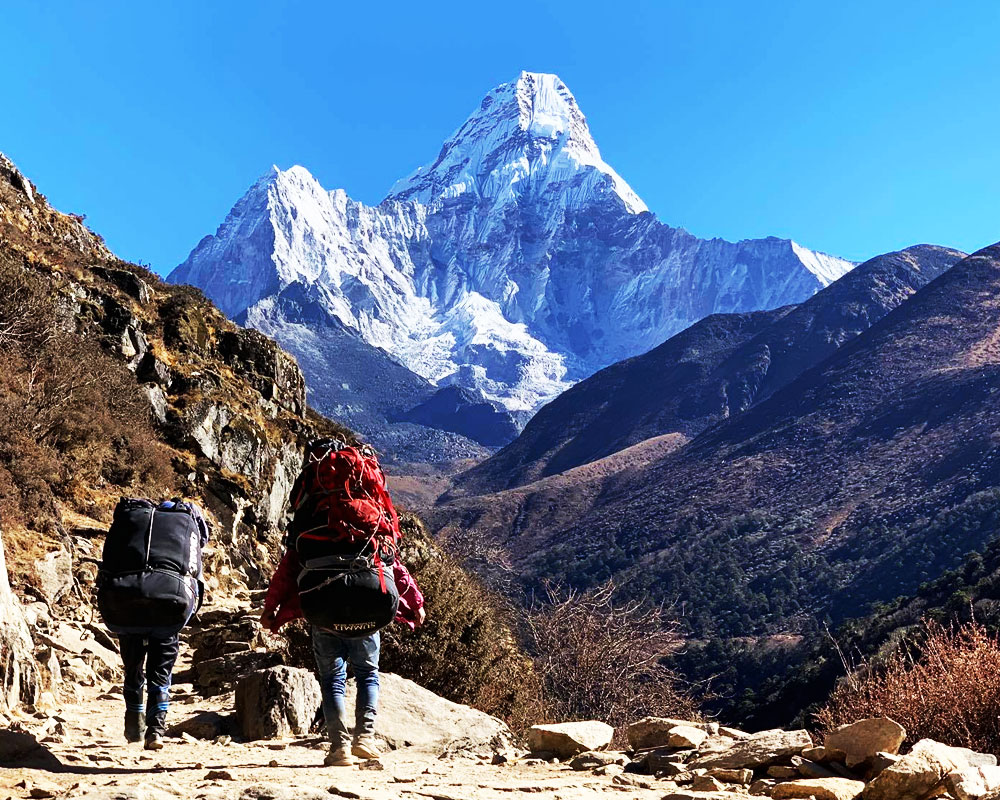 15-Days Everest Base Camp Trek Cost and Services
Everest Base Camp is one of the most popular trekking and touring destinations in Nepal and also the most preferred trekking destination around the globe. This is so because of the diversity of ecology, culture, and vegetation at such high altitudes.
Everest Base Camp Trek Cost varies from local base inbound and outbound companies when you choose a locally based company for Everest Base Camp Trek; the price is much cheaper. Further within the locally based company, there is variation in cost for Everest Base Camp Trek.
This is so because of the services they allocate to travellers and also the number of days for the entire trek. Discover Altitude has multiple options for Everest Base Camp Trek with different services and the number of days as well.
We normally arrange multiple options according to your physical fitness level, age group, and also your restricted time frame in Nepal.
We are here to help any trekkers according to their budget limit by customizing the trek packages in their time frame, which may be through increasing or decreasing the number of days or by arranging the services accordingly.
Please feel comfortable talking with our expert, as we know how important is to stop at the base of the highest mountain in the world Mt. Everest means to you.
Best Time to Trek 15-Days Everest Base Camp
Mainly Everest Base Camp Trek is for every season...in spite of all this, every trekking trail in Nepal has some best times to visit.
Trekking in Everest base camp is better during the month of September-November which is Autumn and March-May which is Spring. This is so because of a better view of the high Himalayas with clear blue sky and better visibility as well.
Trekking to Everest Base Camp is also possible during winter which is December and January, only the equipment required will be increased.
As the temperature in the high areas may go below -10 to -15. So warm clothes are highly recommended during winter.
But to speak the truth rainy season is not recommended for the Everest Base Camp trek which is June and July, below Namche Bazaar normally we can experience rain during the rainy season but the views up in the Himalayas may be cloudy although it doesn't rain over there.
Trekkers can be seen in the Everest Base Camp region throughout the year but the best time will be Autumn and Spring with less snowfall and varied vegetation and high visibility.