Short Everest Base Camp Trek is one of the easiest ways to reach Mount Everest Base Camp in a short period of time without any difficulty of altitude.
Everest Base Camp Trek is definitely one of the most desired destinations for any trekkers taking you to the highest altitude of 5,364 meters.
However, arranging such a long trek vacation might be difficult for many. Keeping this time restriction in mind Discover Altitude Treks has compiled a unique trek package for Everest Base Camp and is one of the highly acclaimed as well.
Nothing to worry about regarding the trail and the distance to be covered, as this is a regular trekking trial, only the point is skipping an extra night for acclimatizing one at Namche Bazaar and the other at Dingbuche.
If you have a basic fitness level, this will be an awesome itinerary for the Everest Trek to accomplish in just a number of 10 days.
We assure you the trip will be a memorable one with a highly experienced guide to accompany you throughout the trek. Just plan a day for the trip and join our expertise, to explore the highest region on earth to have the majestic views of the Himalayas including Mount Everest.
The trail will bless you with diverse vegetation, flora, and fauna besides Everest. The Sherpa culture, customs, and welcoming hospitality will be an amazing experience.
The journey to the base camp of Mount Everest starts upon landing at Lukla airport, a gateway to the entire Everest region.
Everest Base Camp Short Trek is a 10-day trek from Kathmandu to Kathmandu visiting all the important places during the trek and finally to the base camp.
This will be an easygoing trek with overnight stops at the tea houses
Advantages of Short Everest Base Camp Trekking
Short Everest Base Camp Trek is in itself a unique trek itinerary that takes one to the Base of Mount Everest in a short span of time. Anyone can do this and is also suited for first-time trekkers.
Trekking to the Base Camp of Everest from Kathmandu to Kathmandu can be easily done within 10 days. Our itinerary is well designed to make sure the gain of altitude is not well balanced. This makes the trek easy to go uphill with the magnificent views. However, in a comfortable way, you can join Everest Base Camp 12 Day, with 2-night acclimatization.
This package gives you full freedom for your choice of your meal during the trek. You will be spending 9 nights at the tea house in a comfortable room.
Moreover, throughout the trek, you will be guided by a professional leader to make sure you get detailed information about the places and the trail.
So, if you have a short vacation, join the real Himalayan adventure with Discover Altitude Treks to make a memorable moment to remember.
Is 10-Day Short Everest Base Camp Fit for Me?
This 10-Day Everest Base Camp Short Trek is a well-designed package for trekkers who are restricted by time frame. This is a normal way of hiking for just 6 Hours every day with frequent stops. As overnight camps are lower in terms of altitude, trekkers will not have a problem acclimatizing themselves.
Every day, upon reaching the overnight camp, you will be escorted by your guide to hike some 100 Meters for acclimatizing, and spending an hour at such an altitude will benefit you. Finally, descend to the camp for the night stay. The basic principle for high altitude trek is to hike higher and sleep lower.
This 10-day Everest Base Camp short Trek itinerary can easily be done by any trekker. So you don't need to be highly experienced hikers to be at the base camp of Mount Everest.
However, for senior citizens or people with some health issues, we don't recommend this Short package to Everest Base Camp. There are alternative itineraries for them to follow. For further details, please contact Discover Altitude, we will assist you in arranging a unique way to trek Everest Base Camp.
How is Accommodation during the EBC Short Trek?
Short Everest Base Camp Trek is more luxurious in terms of accommodation compared to other trekking areas of Nepal. Due to its popularity thousands of trekkers visit the Everest region. Thus, the number and standard of tea houses are increasing.
Although there is strict restriction by the local government in the construction of the tea houses to preserve its ecology, so, early booking is a must to do for the Everest trek.
Throughout the trek, you will be staying in a local tea house, which is far more comfortable. Some of the tea houses at the lower altitude will have attached toilets inside the room and more with common toilets as you ascend higher.
On each floor, there will be a toilet and bathroom which need to be shared, make sure you have your own toilet paper to use. Each room will have two separate beds with a tick mattress, pillow, blanket, bed sheet (each), and a tea table.
In short, your stay will be comfortable, sweet, and sound.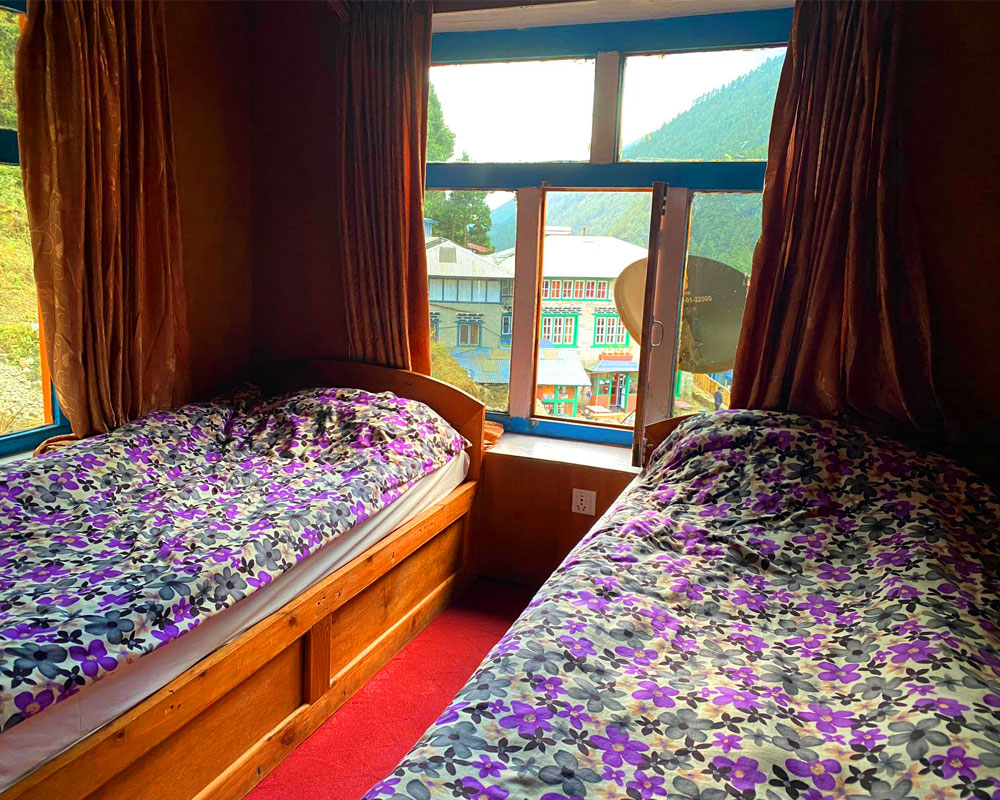 Food during the Everest Short Trek
Food during the trek varies according to the altitude. However, there will be a menu in each tea house and you can select with multiple choice. Veg items are normally locally grown stuff, however, non-veg are carried to the tea house from the nearby villages.
The cooking staff is a professional and well-trained cook, having knowledge of different food items from local, continental, Italian, Indian, Chinese, etc.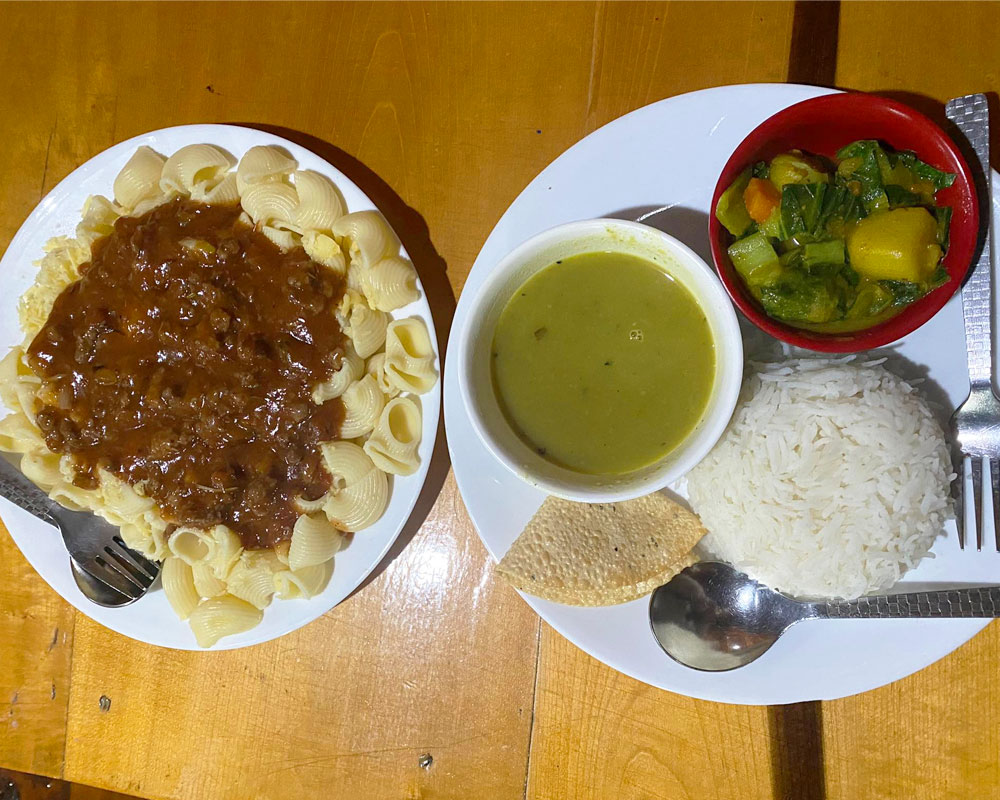 Drinking Water During Short Everest Trekking
Water is one of the most essential things while trekking in the Himalayas. Throughout the trek, you will find places to buy water from the tea houses and lodges. This will cost around 2 USD – 3 USD depending upon the altitude.
However, trekkers need to carry their own water bottles to refill, as bottled water is prohibited from selling or buying in the mountains. Tea houses will have purified water carried out from the center and sold to trekkers.
Apart from this, if you don't want to spend extra money on water you can have a purified tablet or liquid to put on the normal water which you can refill from the tap.
Electricity and Internet while Doing Short Everest Base Camp Trek
Electricity is accessible throughout the trek. Tea houses and lodges are self-sufficient with locally generated hydroelectricity and solar panels. So, charging your device is possible everywhere.
However, inside the room, there won't be any charging point, if you want to charge your electronic device, visit the tea house reception and hand them over. They will charge upon payment of a small sum of money.
Regarding the internet, at the lower altitude, there will be WiFi in all the tea houses, and will charge a small amount for use. However, at the higher altitude, you can use an Everest Internet SIM card upon payment of USD 5 which can be obtained from the tea house or from Namche Bazaar and this can be used throughout the trek.
How is the Trekking Route during the Short Everest Trek?
Due to the popularity of the Everest region, thousands of trekkers visit these areas every year. Thus, the trail remains busy mainly during Spring and Autumn.
Apart from all this, the local government frequently maintains the trekking trail and they make sure those are safe and sound for the trekkers.
At the lower altitude, you will be able to see a signboard stating the trail location. However, at a higher altitude, this might not be seen.
Trails are clean and well maintained with stone slabs in many places, suspension bridges to cross the river, and wooden bridges to cross the stream.
However, at the higher altitude make sure you are not a solo trekker because, during winter when it gets snowfall due to bare mountain trails, trekkers might find difficulties tracing the right way. In this case, please follow the group with a local guide who can help you find the right trail.
Things to Carry
A Trekking Pole
Sleeping Bag
Sunscream
Sun Glass
Toilet paper
Water bottle
Lip balm
Trekking Shoes
Hand glove
Warm woolen hat
Trekking hat
Inner thermal
Full sleeve t-shirt
Charging device (220V-240V)
Tooth Brush and Paste
Medical stuff if you use some