Kathmandu Heritage Walking Tour is a day tour around Kathmandu city. This will be a walking tour to some of the UNESCO world heritage sites of Nepal which include Kathmandu Durbar Square and Swyambhunath Stupa also known as Monkey Temple.
Heritage Tour will lead you towards the oldest settlement of Kathmandu district, passing through local alleys, Ason market, encountering uncountable temples, markets, old houses, and finally to Durbar Square.
The antiqueness of the old town is filled with colorful local stores, vegetable markets, and vendors seller with clothes and edible stuff that are very attractive to witness. Passing by with surprise in every step you take. This will be a lifetime memory for any traveler to witness the culture and lifestyle of the locals in a local way.
A heritage walking tour in Kathmandu will take you to one of the powerful kingdoms of Kathmandu valley i.e. Kathmandu Durbar Square or Basantapur Durbar Square. So, with well-preserved the palace and temples around, you can spend hours watching the daily activities of the locals.
Temples with pagoda and shikhara architecture will make you surprised. Above all, the erotic carving around the temple premises, and the big bell hanging are well to watch but not to ring.
Kathmandu Durbar Square is an abode of the Living Goddesses Kumari. So if you are fortunate enough will get an opportunity to witness the living goddesses Kumari but taking her pictures is strictly prohibited.
Heading towards the nine-storied palace, you can explore the museum and head towards the freak street, which was a popular destination for hippies till the '70s.
A guided city tour in Kathmandu will help you go through every detail from Kasthamandap, Maru Ganesh, Kala Bhairab, Taleju Bhawani Temple, Kumari Gar, Palace, and many more before hiking towards Swyambhunath.
Crossing a river through a local street you pass by army barrack towards a hillock where lies the mighty Swyambhunath Stupa dedicated to Buddhism and surrounding temples to Hindu followers.
Filled with hundreds of live monkeys, a praying flag hanging around, a praying wheel spinning, and Chaittya around, you will be fascinated to see monkeys performing tricky and funny activities.
The hillock will be a good place to observe the Kathmandu valley and the Langtang Himalayas with a 360° panoramic view, descending 365 steep below, you will take a walk towards your respective hotel through the other part of the local settlement passing by the cremation area of local Newari community and finally to hotel.
Required Fees for Kathmandu Heritage Tour
1. Kathmandu Durbar Square
Rs. 1000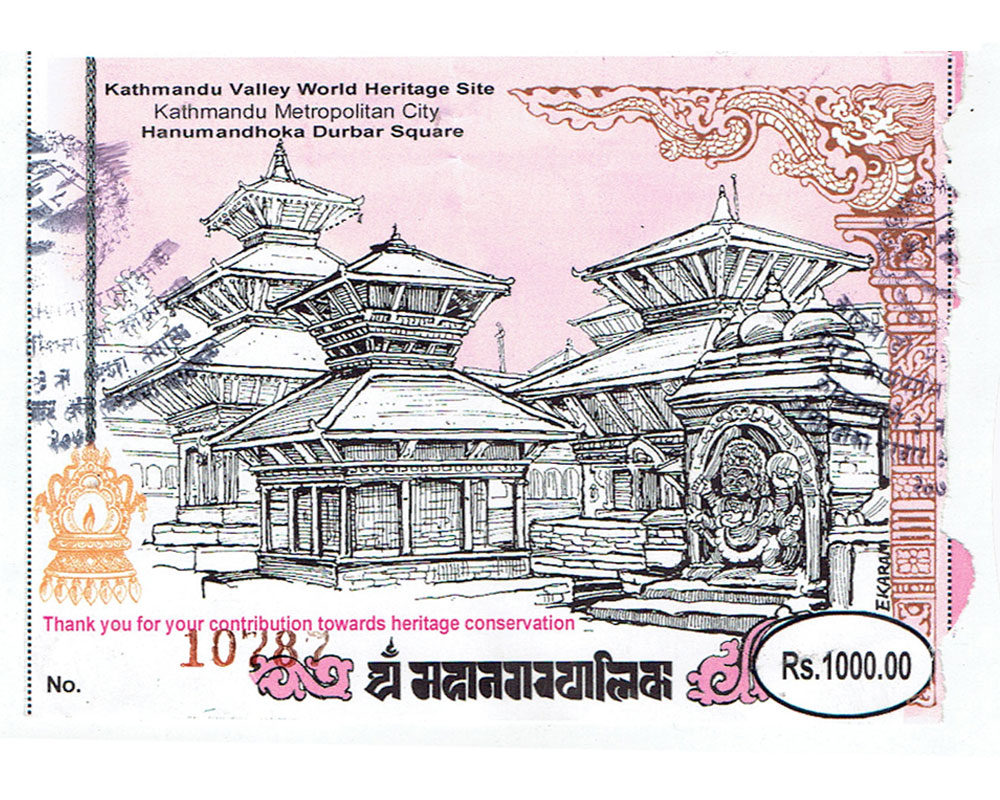 2. Swyambhunath Stupa
Rs. 200