Short Annapurna Base Camp Trek (4130M) is one of the most preferred treks in Nepal and the region has been listed as one of the top 10 trekking destinations of the world by the renowned travel site Lonely Planet due to its beauty, easiness, and diversification of the trail. It is a moderate trek in the Himalayas of Nepal, which lies in the Annapurna region.
The region itself is blessed with nature and culture, and the Annapurna region has the most trekking trails in Nepal and options to trek compared to any other region in Nepal.
Trekking through the harsh jungle to the village and finally to the mighty Himalayas is the diversification of the entire trek, every step we make will be a wonderland for us. The trail starts from the lowland to the base camp and is filled with different vegetation, flora, and fauna.
It is a short and time-saving trek for adventurous trekkers, no matter how old and what your physical condition is; if you have a strong determination to explore the beauty of the Himalayas Rapid Annapurna Base Camp will be the best.
The trail will lead us to explore the beautiful range of Annapurna and Dhaulagiri which includes the Fishtail Mountain, Annapurna, Nilgiri, Gangapurna, Dhaulagiri massif, and many more in a short period. This will be a time-saving and relaxing trek, to explore nature and its beauty.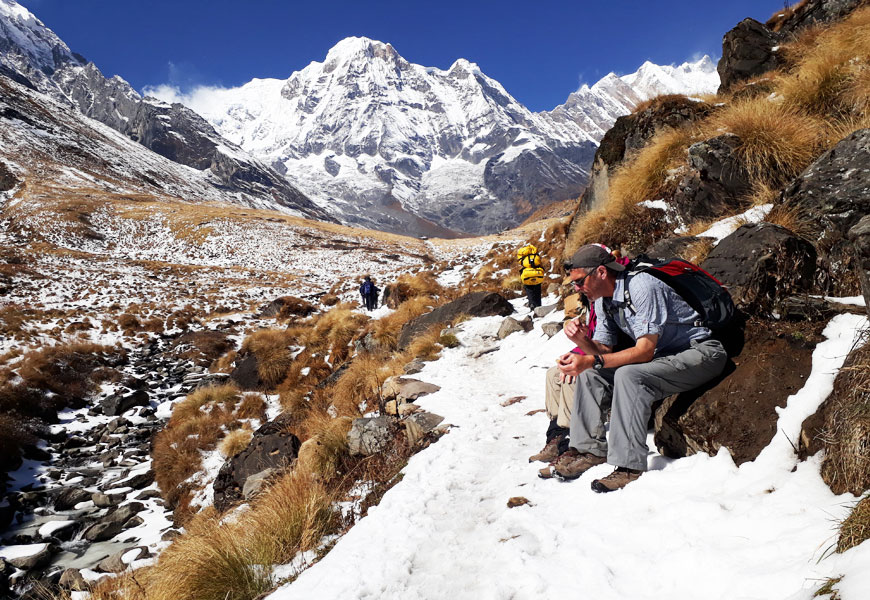 Now, if you are on a short holiday tour in Nepal with a busy schedule but want to enjoy being in the Himalayas of Nepal, join Discover Altitude to enjoy trekking with the locals in the Annapurna region which is the shortest and the best Annapurna Base Camp (ABC) trek in a more relaxing and experiencing way enjoying all the beauty, visiting the scenic spot for photographs without being rush.
The trek starts from Kimche, which is around 3 hour's drive from Pokhara this will make the trek shorter to avoid rush hour, exploring the most demanding village Ghandruk on the lap of the mountain will be a memorable experience for any trekkers.
Further ascending towards Chhomrong, Deurali, Machhapuchri Base Camp, and Annapurna Base Camp.
The trail is filled with the diverse color of nature and ethnic settlements mainly occupied by the Gurung Community along with the majestic Himalayas like Himchuli, Barahi Shikhar, Annapurna I, Tent Peak, Singachuli, Gangapurna, Annapurna III are some to be mentioned.
Passing by the Modi Khola snow-melted river, we can enjoy a relaxing moment, descending back from ABC we will be in one of the popular hot springs at Jhinu Dada. The trail will pass by different villages, farmland, flora, fauna, etc before reaching Pokhara to end the trek.
If you want to trek into Annapurna Base Camp in a more relaxing way, Annapurna Base Camp Trek (14-Day) or Annapurna Base Camp Trek 10- Days can be the best alternative options.
Interested in this trip, for further information or booking WhatsApp: +977-9841161593 or Email: info@discoveraltitude.com